Bespoke Filtration
Below are some of the bespoke Protein Showers and Bio Chambers we can manufacture.
Our Protein Showers are the only showers that can remove organic waste (DOC) a by-product of your filtration system that leaves foam on the surface of your pond that can inhibit the development of your Koi.
We can make our Showers with inlets from 1.5 inch to 3 inch at the side or rear of the shower.The water can be returned via a weir or pipe and the protein waste can be removed from either side of the Shower. The pictures attached are just some of the different types of bespoke Showers we can make. We have manufactured and used these showers for over ten years with superb results.
All our Bio Chambers can be made with inlets to fit perfect to your Drum Filtration. They include airline supports and fittings , by pass for better retention time as well as seperate chamber for a submersible UV and vented lid. We can make these Chambers to suit your requirements.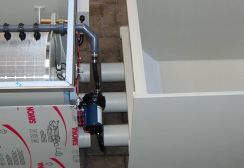 We also make Stainleess Steel Weirs , bespoke surface skimmers and top up boxes.
For more information call 07712871692 or email kwc-jpn@hotmail.co.uk Thanks Drew