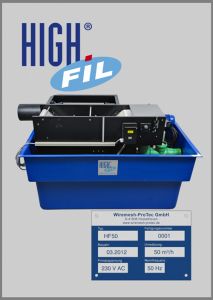 The High-Fil 50 Endless Belt Filter Systems Manufactured and Designed in Germany and using up to date technology can deal with circulation rates up to 50,000 litres per hour. An automatically self cleaning endless belt filter which uses a special Stainless Steel wiremesh that has been tried and tested successfully in many different industrial applications. Complete with its own bio filter the HighFil can be installed below water level for gravity operations.
Below is a recently completed HighFil 50 installation including pre-chamber with fully submersible UV's and HighFil HFP-75 pump.
Below are some video clips of the High-FIL 50 in action:
Further Information from the Manufacturer
HighFil® Endless belt filter system
Fields of application
The "HighFil" continuous belt filtration plants were developed by our experienced engineers and technicians from 2008 to 2009. This plants have been successfully used for the filtration of pond water ever since. Additionally, they can be used for various applications in the field of water filtration. All parts of the plant are carefully chosen to suit continuous operation all year long; they meet the industrial standard; and they are accepted in accordance with the Machinery Directive 2006/42/E6. Due to the design configuration of the plants high amounts of contaminants can be removed quickly and reliably. Finest suspended particles with a particle size of ≥ 5 µm are safely retained by our innovative continuous filter belt. The perfect sealing of the continuous belt filter prevents leakages. With this successful plant design, the best water parameters can be achieved and a safe operation is ensured.
Advantages of HighFil continuous belt filter plant
Industrial standard
Accepted in accordance with Machinery Directive 2006/42/E6
Finest particle filtration with particle sizes of ≥ 5 µm
Circulation of 15 m³/h to 100 m³/h
Fully automatic self-cleaning
Optimal contaminant discharge; leaves and algae bundles are removed without any problems
Suitable for gravity operation
Innovative filter belt made of stainless steel wire mesh with industrial fastener
Free 3D plant design
Installation below pond level when used in gravity operation
Easy handling: filter belt and drain are accessible directly
Intelligent control ensures high process safety for all processes
Modular system, flexibly adjustable to local conditions
Available as hang-in component or complete plant with mounting aid frame
Advantages of the filter belt
Innovative filter belt produced from stainless-steel mesh, with a pore size of 48µm. Developed to be used in ponds containing populations of Koi fish.
Excellent permeability with high flow volumes.
Optimum dirt retention thanks to special pore construction and large number pores.
For the prevention of leaks, perfect sealing thanks to coated edges.
The belt is easy to change thanks to the innovative closing system
If you would like to find out more about this unique system and many of its features plesae call me on 07712871692 , Thanks Drew